Welcome to the Prison View Golf Course
Prison View Golf Course is located on the grounds of Louisiana State Penitentiary, Angola, LA, and is operated by the Louisiana State Penitentiary Employee Recreation Committee.

Prison View offers players a challenging round of golf, practice facility and Clubhouse.

Number 1 tee box is elevated approximately 75 yards into the Tunica Hills, offering a spectacular view of Louisiana's only maximum security prison.
The Course:
9-hole, par 72 course measuring approx. 6000 yards, with the front and back nine never using the same tee boxes.

37 sand bunkers and water coming into play on 16 holes.
Course surface is 419 Bermuda fairways and tee boxes and Tif-dwarf greens. top
Driving range has 60-yard by 20-yard tee box with 419 Bermuda grass.

Practice green with sand bunker for short game drills. top
Range balls

Restaurant serving po-boys, fried seafood, hotdogs, cold drinks and other assorted snacks. top
Green fees are $10.00

Cart fee of $5.00 per person, per 9 holes

Course can accommodate groups of up to 40 people. Please contact Pro-shop for more information and to schedule tee times. top
Prison View Golf Course is located on the grounds of Louisiana State Penitentiary; therefore, all guests must provide personal information (date of birth, drivers license number, social security number, etc.) for complete background check before play. (48 hours in advance)

No tee times will be scheduled prior to completed background check.

Convicted felons and individuals listed on any inmates visiting list will not be allowed access.

All golfers must present valid, state issued identification upon arrival.

Play may be suspended at any time, due to institutional need or at the Warden's discretion.

Tee times may be cancelled without notice.

Absolutely NO firearms, drugs, alcohol or other contraband items (such as, but not limited to, cameras, knives, etc.) are allowed on the premises.

Persons entering Louisiana State Penitentiary must consent to a search of their vehicle, belongings and/or person at any time, while on institutional grounds. top
Directions:
From St. Francisville, LA, travel approx. 2 miles north on Hwy 61, turn left on LA Hwy 66, travel approx. 20 miles. LA Hwy 66 dead-ends at the Front Gate of Louisiana State Penitentiary. Google Map top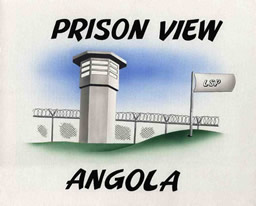 Schedule your tee time: (225) 655-2978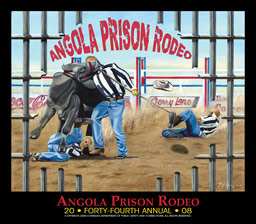 Angola Rodeo: The Wildest Show in the South!!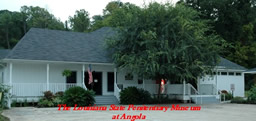 Angola Museum: The history of the prison once known as "The bloodiest prison in America"